Does your fire department believe that a large-scale hazardous material incident will never happen in your jurisdiction? In today's world hazardous materials are all around us. Most of America's hazardous materials and hazardous waste is transported across the country through small towns and large cities. So, any highway or railroad in your territory has the potential of becoming a hazardous material disaster site.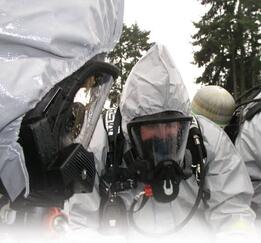 Your firefighters are on the front line, the first on the scene at an incident that requires a knowledge of the poisons and chemicals they may encounter. Therefore, they will benefit with having Haz Mat Training. Hazmat awareness allows firefighters to interpret threats and warnings of the presence of hazardous materials in multiple situations. These may include fuel truck accidents and derailed trains which can result in leaks and spills that put at risk the health and safety of the public and the environment.
With proper training, firefighters can learn to recognize if hazardous materials are present through basic clues and how they can be harmful if spilled or released into the environment. They can learn to recognize what places store or use hazardous materials and the type of containers that hold them.
Haz Mat identification gives firefighters the ability to identify the material and take appropriate action. Training must include the marking signs for transporting hazardous materials and the nine hazard classes defined by the United States Department of Transportation. Firefighters should know how to use the Emergency Response Handbook.
Giving your firefighters Haz Mat Training is giving them the tools to fight the enemy, the materials that can endanger their lives, the lives of their loved ones, and their community members. Action-Training has 4 HazMAt training series which are available online or on DVD. Simply contact us for more information on the courses we have to meet your needs.