Action Training Systems is far from the new kid on the block when it comes to developing courses for the emergency responder. Blending more than 25 years of experience with quality video content while keeping a focus on current national standards, our EMS Training programs have been approved by CECBEMS, the Continuing Education Coordinating Board for Emergency Medical Services.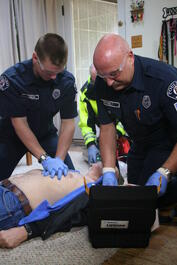 In a fast-paced world where time is always of the essence, Action Training Systems is a fast-track solution to a career in emergency services. Our interactive online courses combine technology with proven training methods that are designed for the next generation of emergency service leaders. With hours of training, the courses don't cut corners on the essential knowledge needed to stay safe and treat patients safely on the job.
If you're still having doubts about a video-based program, consider this:
- Action Training provides the most comprehensive, up-to-date skills-based training as part of our EMS training series. Curriculum includes both EMR (first responder) and EMT level training, and teaches according to the most current, nationally recognized pre-hospital emergency medical guidelines.
- All of our training objectives were developed in accordance with National EMS Education Standards and skills from the National Registry of EMTs.
- All content and course oversight is provided by a program committee of qualified EMS educators, pre-hospital care providers and medical professionals.
Remember, all Action Training Systems EMS online courses are approved for 1 hour of continuing education credit for emergency medical responders and EMTs. If you have questions, contact us today to speak to an account manager about your EMS training goals.